Venue
NCC is the leading and largest conference center in Vietnam. The Center is located at the intersection of Thang Long Avenue and Pham Hung Road in Me Tri Ward, Nam Tu Liem District, 10 km from the center of Hanoi and 40 km from Noi Bai Airport.
NCC is a public administrative unit under the Office of the Government. The construction of the Center started on November 15th 2004 and reached its completion in 22 months. The Center was officially established on November 25th 2005.
With a total area of 64 hectares, including the main building, a park, water square, on-ground and underground parking lot, helipad, and other auxiliary items, NCC is a conference center that has met international standards and is the ideal venue for big events and conferences at the domestic and international level with the participation of thousands of people.
It is rare for a conference venue in Vietnam to have a 9.4 ha area of greeneries, covered by rare trees, grass fields, artificial hills, Van Tue island and an interconnected system of three lakes for climate control. Within the area of the center, there is also a collection of 30 stone statues, which are the artistic works created by sculptor Nguyen Long Buu over the span of 15 years. With lush expanses of grass, NCC provides an ideal venue for outdoor parties.

Located in front of the main building is the water square with an area of nearly 10,000 square meters. The water square can be considered a highlight within the NCC area because this place has one of the most modern and beautiful musical fountain systems in Vietnam. This system was put into operation in 2014. The water square is a good location for art performances, product showcases, fairs, exhibitions, etc.
NCC also has a system of large parking areas with a capacity of nearly 1,100 cars of all kinds. In addition, the center also has a helipad located in the western part of the Square.
Situated in the central location of the NCC is the main building with a height of 50 meters, consisting of 5 floors and one basement, making up a total floor area of over 60,000m2, including large halls and a system of over 70 meeting rooms of all sizes to cater for the needs of organizing conferences, congresses, receptions, banquets, fairs, exhibitions and other supporting services. The main hall on the first floor on the outside in front of the Building has an area of 2,800m2, the inside has an area of 2,140m2. The hall and corridor on the second floor have an area of 3,700m2, on the third floor, the area is 3,630m2. With such a large lobby area, the center brings convenience to activities like exhibitions and product showcases etc.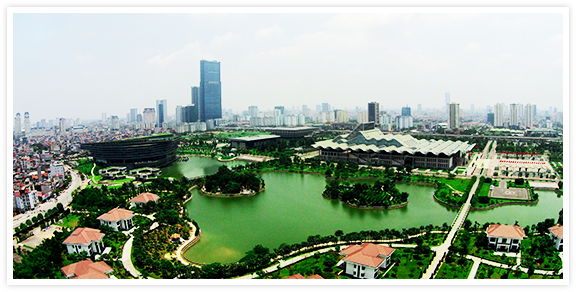 The Banquet hall located on the first floor of the building has an area of over 2,000m2, with a capacity of up to 1,800 guests attending the banquet. The reception hall is equipped with modern facilities and has a mobile stage system. In addition, the hall is impressively designed with a flexible lighting system and two paintings Red Ha Long (Ha Long at dusk) and Gold Ha Long (Ha Long at dawn) in lacquer with a "giant size" spanning two symmetrical walls to create a cozy and luxurious space. The hall can be automatically divided into two separate spaces to serve different needs.
The Main Meeting Hall (MMH) is the largest of its kind in Vietnam and the third largest in South East Asia not only thanks to the number of seats but also the functionality and modern features. The MMH has an area of over 4,200 m2 with a capacity of over 3,600 seats, including 20 reserved spots for people with disabilities. Under the armrest of each seat in the VIP section, there is a technical kit including a system of headphones and channel adapter for translating 32 languages. In addition, the Hall has a modern audio and lighting equipment system imported from France and Germany using digital technologies with high technical safety functionalities capable of meeting the requirements of conferences, seminars, as well as performances of various art forms.
In addition to these two special halls, NCC also has around 70 rooms for organizing conferences and seminars located on the second and third floors of the main building. The rooms are of various sizes, with the capacity of 30 to 750 guests. The meeting rooms are all equipped with modern technical facilities with high automation capabilities, luxurious interior, and movable partition walls that can divide the room into 2 to 3 smaller rooms to meet the various needs of the clients.
In order to attentively serve delegations and guests attending conferences, NCC  has also built a complex of luxury villas with a total area of 20,737m2, including 10 detached villas and one restaurant. The villa complex was built in accordance with the standards of 5-star hotels with high-class facilities, equipment, interior including 53 Twin rooms, 14 Double rooms, 10 Luxury rooms and a system of steam and dry sauna, etc.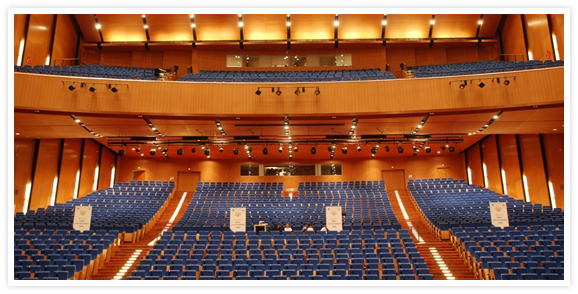 In addition to the system of modern meeting rooms, NCC is equipped with an advanced, modern security system, including a CCTV system for the outdoor areas and inside the main building, a public announcement system, an incident announcement system, an access control system, systems for door control, magnetic locks, motion detection, fire alarm, heat alarm and automatic firefighting; systems of backup power generation and power generation in case of incidents; systems for building management, energy management and lighting control. NCC is also reinforced by an anti-seismic system, many items are built with fire-resistant bricks, lightning protection steel, etc. Especially, at NCC, all door systems are automatically controlled. The curtain system is automatically controlled and can act as exit points in case of incidents.
NCC also provides supporting services such as bars, ATMs, medical rooms, kitchen areas for party catering, etc. to meet all high-class catering requirements.
With modern, systematic equipment and facilities as well as enthusiastic and professional staff, the National Convention Center can satisfy the customers with the motto of Respectful – Thoughtful – Effective – Safe.